Star Trek: The Animated Series – "The Time Trap" (season 1, episode 12)
Written by Joyce Perry; directed by Hal Sutherland; first aired in 1973
We open in the mysterious "Delta Triangle," where the crew of the Enterprise is investigating a long series of starship disappearances. There, they find themselves in a firefight with the Klingon ship Klothos … before it, too, disappears. Under attack by Klingon reinforcements, the Enterprise follows the Klothos, and soon finds itself in a "pocket universe," surrounded by "a graveyard of ships from every civilization imaginable." There, the Klothos attempts to continue its attack on the Enterprise until both Kirk and the Klingon captain, Kor, are beamed off their ships by the Ruling Council of Elysia, a sort of Federation which maintains the peace among the various species who have been stranded for centuries in the pocket universe, where time passes much more slowly than outside of it. Despite being assured by the Council that escape is impossible, the crew of the Enterprise sets about finding a way out of the pocket, reluctantly cooperating with the Klingons … who plan to betray Kirk, and destroy the Enterprise, at their earliest opportunity. But with the help of the Council, the crew of the Enterprise thwart the Klingons' plan, and escape the pocket universe without being blown up. While Kor takes the credit for their escape, Kirk tells his crew that the only thing that matters is being free to explore the stars once again (while the Elysians … stay in the pocket universe forever, I guess?)
VS.
Star Trek: Voyager – "The Void" (season 7, episode 15)
Teleplay by Raf Green & James Kahn; story by Raf Green & Kenneth Biller; directed by Mike Vejar; first aired in 2001
A fancy dinner for Voyager's officers, prepared by Seven of Nine, is interrupted when the ship is abruptly pulled into a starless pocket of space. They are immediately attacked by two competing ships, which retreat only after beaming various supplies off of Voyager. Janeway and her crew are officially welcomed to "the Void" by a third ship, whose commander, General Valen, is impressed that Voyager, unlike most visitors to the Void, has survived longer than a "few minutes." Valen explains that the Void can't be escaped, and contains no resources whatsoever … except for those that can be plundered from the other ships trapped within it. Captain Janeway refuses to join Valen in doing so, but finds that the Void is rapidly draining Voyager's power. She tracks the ship that stole their supplies, only to find it destroyed; beaming aboard what little of use they can find in the wreckage, the crew discovers an injured alien that they nickname "Fantome," who appears to be indigenous to the Void. The crew eventually find Valen in possession of their stolen supplies, but given the chance to take other much-needed supplies from his ship, Janeway insists on only beaming back what was stolen from Voyager, and nothing else. While Chakotay and Tuvok argue that sticking to Starfleet's principles in the Void will get them killed, Janeway insists that their principles may be their best chance of survival, and sets out to form a new Federation with other ships willing to abide by those principles. Over time, several ships – and several more of Fantome's people – join her "Alliance," and are able to pool enough resources to finally mount a serious escape attempt. Valen interrupts with some new allies of his own – former Alliance members who couldn't follow rules like "no murdering" – but his ships are disabled by Fantome's people, and the Alliance ships work together to successfully escape the Void. They bid each other farewell and go their separate ways, as Janeway admits it felt good to almost be "part of the Federation again," even if they're still "30,000 light years away" from the original.
Maybe more than ever, Star Trek's vision of a United Federation of Planets feels simultaneously inspirational, impossible, and important. It's long been a big part of what's drawn me to Trek; not just the optimism of that idea, but the depth of it, the suggestion of all these worlds, all these species, all these corners of space we've never even seen on screen. All united, we're told, towards the common good.
But like other aspects of Star Trek's seemingly utopian future – like its post-scarcity economy, or its eradication of poverty and inequality on Earth – this interplanetary harmony is mostly told, and rarely shown. Which means we're given very few opportunities to see how it might actually work in practice, outside of Starfleet, an organization usually shown to be pretty human-heavy anyway (which could, of course, be a choice by the writers, a concession to the cost of designing and building alien face prosthetics, or a little from column A and a little from column B). The glimpses we have gotten of the Federation's inner workings have focused (perhaps predictably, for drama's sake) on instances of it not working all that well, as in the diplomatic infighting of The Original Series' seminal world-building episode "Journey to Babel," or the attempted overthrow of the Federation's duly elected president by some jerk human in Deep Space Nine's "Homefront" and "Paradise Lost." While the first season of Picard has taken flak, from some, for its less idealistic take on both Starfleet and the larger Federation, its explanation of the dilemma surrounding humanitarian relief efforts – in which we're told that several member worlds threatened to pull out of the Federation altogether, rather than aid their enemies, the Romulans – is one of the relatively few times Star Trek has openly acknowledged that organizations like the Federation do tend to be built on compromise, at least as much as they're built on ideals and inspirational speeches … and that however ugly some of those compromises might be, they are at least a part of what separates the Federation from, say, the totalitarian Dominion, or the single-minded Borg Collective, neither of which ever needs to compromise, since they simply don't allow dissent in the first place. This isn't to say that we can't imagine a Federation that works better, and is less willing to compromise its core values, than the governments we've got in the real world (which have a troubling tendency to use the word "compromise" in bad faith anyway, as cover for giving up on, or actively opposing, change that might benefit the masses more than the powerful). I'm just not sure it's enough to imagine that such an idealistic organization could work without also imagining how it might work, what organizational challenges it might face and how it might address those challenges.
Both The Animated Series and Voyager have given us episodes – a couple of my personal favorite episodes from each of those series, as a matter of fact – which attempt to do this, at least to some extent, by creating a microcosm of the Federation in an isolated "pocket" of space. In "The Time Trap," we visit Elysia, a community composed of the crew members from ships trapped in the Delta Triangle; in "The Void," Captain Janeway builds her own Alliance of trapped ships, whose leaders are willing to share and pool the Void's scarce resources rather than steal and hoard them. In each of these episodes, isolation from wider space serves as the central plot device, both the impetus for the creation of a diverse alliance of ships and the main challenge for Kirk and Janeway to overcome as they search for a way out.
But the isolation of the Delta Triangle and the Void is more than an obstacle, and more than a convenient way to create a mini-Federation for plot reasons. It also serves to create a situation where there isn't only a moral imperative for the stranded aliens to coexist peacefully; their cooperation is, importantly, necessary for their survival, and for escaping their isolation. The Elysians themselves appear not to escape along with the Enterprise; they may have decided that too much time has passed outside the pocket for them to return now, though "The Time Trap" ends too abruptly to properly address this. Still, their cooperation is necessary for Kirk and his crew – and the decidedly less cooperative Klingon crew – to escape. In "The Void," while General Valen isn't entirely unmoved by Janeway's idealism, he insists that she simply doesn't yet know how things really work in this pocket of space, and that sharing resources and sticking to her principles will get her crew killed. This is, more or less, an argument we often hear in the real world; pooling resources to take proper care of everyone, not just ourselves, is a nice idea, we're told, but it's just not realistic in this dog-eat-dog world. But it turns out that the Void, much like the real world, is only as dog-eat-dog as its inhabitants have made it. Taking care of everyone isn't easy, there's no denying that; we watch Janeway struggle, at first, both to build her Alliance and to keep her people fed. But that struggle gets a bit easier with every additional ship that joins, until the Alliance is actually better equipped to escape the Void – and by extension, to survive – than Valen and his fellow rugged individualists. As it turns out, the residents of the Void – much like we residents of the real world – get to play a part in deciding what's realistic, and what's not.
"The Time Trap" begins with a familiar conflict between Starfleet and the Klingons, an alien race which would be given more depth by later Star Trek series, but which served mainly as treacherous, Cold-War-anxiety-flavored antagonists through most of The Original Series and, by extension, The Animated Series. And as mentioned above, their treachery remains firmly in place by the end of this episode; while pairing the Enterprise and the Klothos is necessary for either to escape the pocket universe, commander Kor uses this joint effort as an opportunity to try and blow up the Enterprise, and then takes credit for masterminding the very escape effort he was actively undermining. While I think it might have been more interesting to see some of that Elysian spirit of cooperation rub off on the Klingons by the end of the episode, the Elysians themselves serve as a counterpoint to the seemingly endless conflict between Human and Klingon.
The diversity of the stranded Elysian population is emphasized both in the episode's dialogue and in its animation, which allows for a range of alien appearances which would have been difficult to achieve on The Original Series. What's more, Devna, one of the leaders of Elysia's Ruling Council, is an Orion woman. Where the green-skinned Orion "slave girl" has a long, notorious tradition in Trek of embodying the concept of aliens as exotic, objectified others, Devna is shown here to be an intelligent, reasonable, and trustworthy leader – as is her fellow Council leader Xerius, a Romulan, who belongs to another alien race long established in Star Trek lore as an analogue to America's Cold War enemies. Not only have these stranded crews from disparate species managed to survive in the pocket universe, they've done so precisely because they imposed certain values on themselves and each other, as seen in their strict rules against violence. The idealism of their Federation-like Council isn't at odds with the cruel reality of their situation, but is exactly what has allowed them to survive it. Where the Klingons are intent on continuing their old rivalries, and where Kirk is intent on escaping the Delta Triangle to continue exploring the stars, the Elysians have adapted so thoroughly to the pocket universe that they now see it, apparently, as their permanent home – and they've done so precisely by building themselves the sort of diverse, peaceful utopia we're often told the Federation is, even if we rarely get to see that utopia in action outside of a starship.
Since the mini-Federation of Elysia is already well established by the time the Enterprise encounters them, "The Time Trap" avoids the trope of having Captain Kirk breeze into new territory, bestow human wisdom on the locals, upend their entire civilization, and abruptly leave; while he does somehow find a way out of the Delta Triangle that they haven't in all the time they've been there, they are still instrumental to his acting on that knowledge, and are, again, seemingly happy to stay where they are, and to keep on living as they already were. "The Void" also mostly avoids this troubling trope, I think, though it does so by taking the opposite approach; Voyager is present for the very formation of the Alliance, and is just as dependent on it for survival and escape as any other ship trapped in the Void.
Yes, the Alliance is Janeway's idea, and is her simultaneous solution to a problem the locals don't share: how to fulfil her commitment to Federation ideals, even when she doesn't have full use of Voyager's impressive technology and weaponry. If the Alliance is the Federation in microcosm, then "The Void" is essentially a microcosm for the very premise of Voyager itself: a Starfleet crew striving to uphold Federation ideals far from the infrastructure (and firepower) of that Federation. This premise could easily lead Voyager to perpetuate that streak of "civilize the locals" colonialism that's been one of the more problematic parts of Star Trek since its very beginning – and is notably on display in the show's early Kazon storylines, with their troubling racial undertones of a culture entirely divided into violent, unsophisticated "sects" warring over turf – but was downplayed past the second season or so, as the series modeled itself more on the self-contained episodes of The Next Generation than the continuing storylines of Deep Space Nine. But in "The Void," midway through Voyager's final season, we get to see this aspect of the show's premise play out in a single episode, much like other aspects of that premise had already played out, a few seasons earlier, in the two-part "Year of Hell." And we see it play out in a way that manages, I think, to largely sidestep colonialist tropes, thanks to the relatively equal power dynamics among residents of the Void. Everyone trapped in the Void, Voyager's crew included, has already had their way of life disrupted, after all, and rather than impose her own way of life on the others just because she believes it's more enlightened, Janeway offers them an approach to their current situation which might both reduce conflict between them and increase their chances of survival in, and escape from, the Void. This isn't "let the enlightened Federation show you the way," so much as it's "forming a Federation would benefit all of us, equally."
But as idealistic an episode as it is, "The Void" also deals directly with the sorts of compromises that often get made in alliances of this nature. When he catches new allies from the Hierarchy using the surveillance technology we know them for to spy on other Alliance ships, Tuvok points out that this isn't how the Alliance does things. And yet, their surveillance provides valuable information, first that one of those Alliance ships is keeping resources for themselves and, later, that former alliance member Bosaal is now conspiring with Valen to attack the Alliance; not only does the Alliance make use of this intel, but without it, the Alliance might never have made it out of the Void at all, falling victim instead to a sneak attack by Bosaal and Valen's counter-alliance. This should (and, I hope, was meant to) be troubling, in relation both to the real world and to Star Trek's fictional universe, in which covert, "secret police"-style spy organizations have pretty consistently served as some of the most unambiguous villains in the franchise (as in the Romulan Empire and Cardassian Union's fear- and paranoia-inducing secret police, the Tal Shiar and Obsidian Order, respectively), and as a way to ask uncomfortable questions about how enlightened the Federation, itself, actually is; Starfleet's shady, cutthroat covert operations division, Section 31, tends to be a controversial and divisive topic not just within fictional Starfleet, but among Star Trek fans in the real world, some of whom see the continued existence of such organizations in humanity's future as a step too far away from idealistic utopia. And while Janeway's own mini-Federation doesn't explicitly endorse the surveillance tactics such agencies are built on, it still ultimately both allows and benefits from them, to such an extent that its central mission may have failed without them.
Still, "The Void" makes a deliberate and convincing case that there are some kinds of compromises that simply can't be made by an aspiring utopia. The reason Bosaal leaves the Alliance – the reason Janeway forces him out – is the same reason she should not have allowed him into it in the first place: he sees the lives of others as having less value than his own. This becomes impossible for Janeway to ignore once she learns that he destroyed a ship and murdered its crew in order to obtain a piece of useful technology for the Alliance, in violation of its rules. But she later admits that she already "had a pretty good idea what kind of person he was," based on his earlier description of Fantome's people, the intelligent Void natives who occasionally appear on trapped ships, as "vermin" he would "exterminate" if he could.
Janeway: That bigoted reaction [Bosaal] had to the Doctor's friend told me all I needed to know, but I ignored my instincts.
Chakotay: Why?
Janeway: Because I thought his ship could help us escape.
Chakotay: You weren't the only one who wanted him in the Alliance.
Janeway: Maybe not. But if I'd listened to my doubts in the first place, we wouldn't have lost the other two ships [which left with him].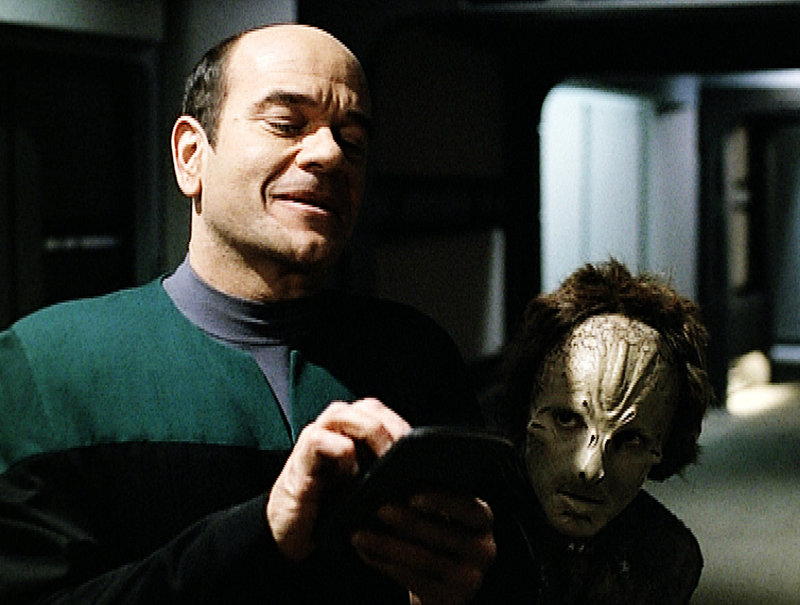 The core value of the Federation – the most aspirational thing about it, more so than its technology or even its post-scarcity economy – is its respect for the inherent rights and the intrinsic value of all sentient life, whatever it looks like, wherever it comes from, whatever its customs. It can be easy to see this simply as a sign of future humanity's moral enlightenment, a vague reassurance that we will, someday, somehow, be more humane than we are now. But "The Void" reminds us that this respect for life doesn't just make the Federation right, it makes the Federation possible. All that technological and societal progress, all that exciting exploration of space, is necessarily built on the member species' willingness and capacity to coexist and collaborate. Including Bosaal in the Alliance seemed, at first, to make the Alliance stronger, but ultimately only weakened it, because his willingness to see a whole race of people as "vermin" foreshadowed his willingness to devalue any life when it served him to do so. This not only made Bosaal a threat to the Alliance, but made him useless as an ally anyway, because their escape from the Void hinged on their ability to trust and cooperate with each other – something those "vermin" whom Bosaal would have "exterminated" proved themselves perfectly capable of doing.
Is it possible to build a peaceful, equitable, humane society while making ethical compromises here and there? Are at least some such compromises necessary to building such a society? It's a big question, and my most honest answer would be that I don't know. We're a long way off from that world, and if getting there is possible, it will undoubtedly be a messy process, one way or another. But what I do know – what I feel only more certain of, with every passing day – is that such a society will never be built by compromising on the inherent value of human beings, or by leaders who encourage us to do so. It will need to be built on our acceptance that valuing everyone, taking care of everyone, is not just the right thing to do, but is absolutely necessary for our own survival.