Star Trek: The Next Generation – "Time Squared" (season 2, episode 13)
Teleplay by Maurice Hurley; Story by Kurt Michael Bensmiller; directed by Joseph L. Scanlan; first aired in 1989
(IMDb | Memory Alpha)
The crew of the Enterprise discover a Starfleet shuttle adrift in space, which turns out to be one of their own shuttles, carrying an unconscious Captain Picard … much to the surprise of a very conscious Captain Picard who is very much at his post, and not on that shuttle. Even as he regains consciousness, the mysterious second Picard remains confused and unable to communicate, but the shuttle's logs show that he has been thrown backward in time from a near future in which an anomaly has destroyed the Enterprise, leaving future Picard as the only survivor. Past Picard is deeply uncomfortable with the knowledge that his future self abandoned ship in a crisis, and is determined to avoid whatever mistakes led, or will lead, to the future Enterprise's destruction, though Commander Riker cautions that Picard's usual gift for anticipating his opponent's moves might backfire in this case, if they lead him to second-guess himself. Soon enough, the Enterprise is pulled towards a rift in space, and gunning the engines to escape only leads the anomaly to pull harder – and to zap both Captains Picard with an energy beam, as if scanning them. Counsellor Troi realizes that the anomaly may be self-aware, in some way, and that the future Picard may have been trying to surrender himself to it in order to save the rest of the crew. Future Picard confirms this, having gradually become more coherent as he approached his own time, and is single-mindedly determined, as if in some sort of feedback loop, to commandeer his shuttle and enact his failed plan once again. But past Picard decides that "before we can go forward, the cycle must end," which he accomplishes quite dramatically by blasting his future self with a phaser – set to kill, apparently – before taking the Enterprise straight into the anomaly. The ship emerges unscathed, future Picard's body and his shuttle vanish from the Enterprise's shuttle bay, and the last Picard standing is left to wonder if the anomaly sent his future self back in time to correct its own mistake.
VS.
Star Trek: Voyager – "Timeless" (season 5, episode 6)
Teleplay by Brannon Braga & Joe Menosky; story by Rick Berman & Brannon Braga & Joe Menosky; directed by LeVar Burton; first aired in 1998
(IMDb | Memory Alpha)
We open on a frozen wasteland as two masked figures investigate the frozen wreckage of a starship, littered with the frozen corpses of its crew. It's soon revealed that this ship is Voyager, those corpses are the cast of characters we've come to know and love, and the masked figures are Harry Kim and Commander Chakotay, visibly older than the last time we saw them. Aided by Chakotay's partner Tessa on board the Delta Flyer, the two surviving members of Voyager's crew recover Borg parts from Seven of Nine and reactivate the Emergency Medical Hologram, all in an effort to send a message to the past. Flashing back fifteen years, we see Voyager's crew celebrating their impending return to Earth, thanks to an experimental "quantum slipstream drive" developed by Harry Kim – technology which, according to Tom Paris's simulations, is not as safe as Kim thought. But Harry insists that he and Chakotay can guide Voyager safely through the slipstream in the Delta Flyer, and despite the concerns of Paris and Chakotay, Captain Janeway agrees, eager to get her crew home. As we've already seen, the Delta Flyer does indeed make it home, but Voyager doesn't, falling out of the slipstream prematurely and crashing to the surface of a frozen planet, killing everyone on board. Fifteen years of blaming himself for their deaths has left the older Harry Kim willing to break the Temporal Prime Directive in order to bring them back, and as The Next Generation's own Geordi La Forge – now captain of his own Galaxy-class starship, the Challenger – closes in on Kim, Chakotay, and Tessa, the EMH helps them to use Seven of Nine's Borg implants to send her instructions in the past, which she believes Kim is sending from the Delta Flyer in her own time. These instructions fail to get Voyager to Earth safely, but moments before weapons fire from the Challenger breaches the future Flyer's warp core, future Kim finally succeeds in instructing Seven to abort the journey altogether. Past Kim, Seven, and the rest of Voyager's crew – very much alive, and very much still stranded in the Delta Quadrant – are initially confused and disappointed, but Harry later learns that Seven was able to confirm the messages as coming from himself in the future, along with a log entry addressed to him personally, in which his future self bitterly tells past Harry, "You owe me one."
I've asked this before, and I'll ask it again: why so much time travel in Star Trek? Its fictional universe already is time travel, of a sort, for its audience; it allows us, for an hour at a time, to skip past the mistakes humanity has made, is making currently, and is certain to make in the future, and jump into a fictional future in which all that nasty business has seemingly been sorted out already. Some of us sometimes fantasize about time-travelling to the past, to experience a so-called "simpler time" which is as much a fantasy as time travel itself. But doesn't Star Trek's better future (however vague Trek might be on the details of how that future got better) allow us a similar experience, only without the baggage of all that bad stuff that actually happened in the actual past? And if it's already doing that for us, do its characters really need to go galivanting back and forth through time as well, experiencing wacky light-hearted hijinks in Earth's past, or tragedies and dark social commentary also in Earth's past, or time loops, or backwards aging, or years of hell, or more time loops?
The short answer, of course, is why not? Time travel, as a plot device, lends itself to an incredibly diverse range of story topics, themes, and tones. That plot device has gifted pop culture with characters ranging from badass Sarah Connor to Bill and Ted, in stories ranging from A Christmas Carol to Quantum Leap to Life is Strange. In Star Trek alone, time travel has made possible maybe the franchise's most iconic single episode of all time, in The Original Series' "The City on the Edge of Forever"; arguably its strongest series finale, in The Next Generation's "All Good Things …"; some of its most biting and ever-timely social commentary, in Deep Space Nine's "Past Tense"; and some of its gnarliest 90's fashion, in Voyager's "Future's End." But even beyond that range of possibilities, it's not hard to see what keeps storytellers coming back to time travel stories, and what keeps those stories relevant to audiences, over and over and over; after all, every human alive is a time traveler, though only, unfortunately, in one direction, and at one speed. These are maybe the most universal facts of life – that we can't change the past, we have to wait for the future, and we'll only ever have access to a finite amount of it – and subverting them is what makes time travel stories simultaneously so implausible and so relatable. There might literally be no character motivation more relatable than the desire to fix an unfixable mistake of the past, or to avoid the unknown mistakes of the future, whether those mistakes are as minor as saying the wrong thing to the wrong person, or as massive as … oh, say, getting all your starship crewmates killed.
And in "Time Squared" and "Timeless," Captain Picard and Harry Kim each are pushed to their emotional and ethical limits by their need to rewrite a mistake of the big, awful, "everybody dies" variety. In The Next Generation's "Time Squared," it's future Picard who has gotten (or will get) everyone killed, putting past Picard in the position of making right what his future self got (or will get) wrong, without the benefit of knowing what that mistake actually was (or will be). In Voyager's "Timeless," though, future Kim knows exactly what past Kim did to get his crewmates killed, and has had fifteen years to stew in guilt and self-hatred because of it. In each of these episodes, we see each of these characters driven to extreme, maybe even inexcusable actions, but we are, I think, able to empathize with them, thanks to the intellectually implausible but emotionally resonant plot device of time travel, and the all-too-relatable question at its core: what if we didn't always travel through time in the same direction, or at the same speed? What if the unfixable could be fixed? And if so, what wouldn't we be willing to do to fix it?
"Time Squared" asks this question in the context of leadership, and does so in a classically allegorical, classically Star Trek fashion – and in doing so, it demonstrates both the strengths and the weaknesses of that particular approach. Future Picard is, almost literally, the embodiment of a leader's worst doubts and fears of failing those they lead, and this metaphor makes it necessary for past Picard to kill him, ending the "cycle" of indecision and self-doubt which would otherwise, ironically, lock him into a single course of action by default, and keep him from seeing other alternatives. It's a poignant, impactful allegory, and a clever use of the conventions of sci-fi to make literal something we've probably all experienced, emotionally and intellectually, whether or not we've been leaders ourselves: feeling pre-emptively haunted by the future consequences of mistakes we haven't even made yet, and which we can't know for certain how to avoid making in the first place. But of course, we don't just experience stories as metaphors, but also as, well, stories, about characters and events which need to at least feel real to us, however removed from reality the details of those stories might be.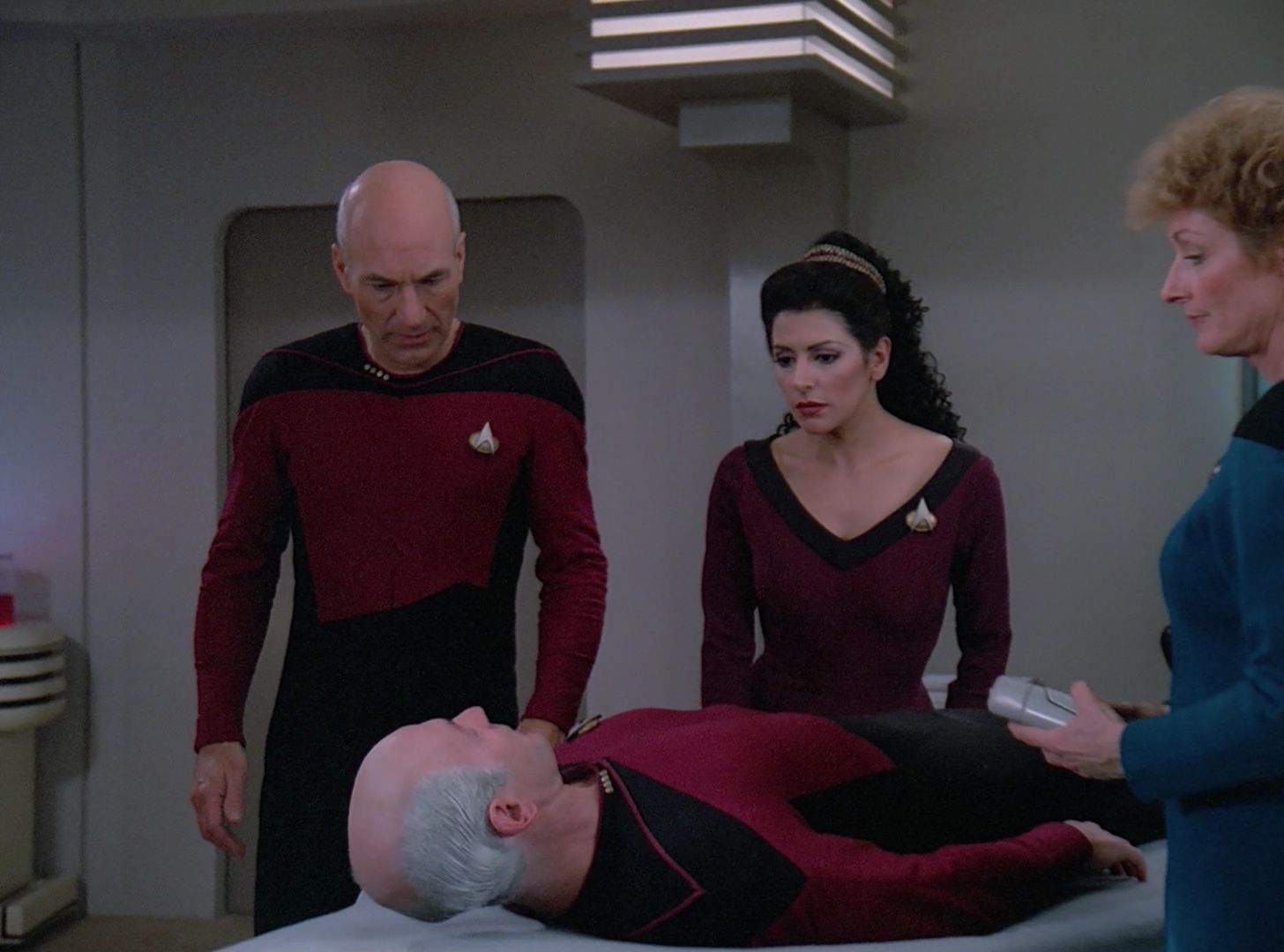 And for me, at least, Picard straight-up murdering his future self breaks the character a bit, even if it does make for both a meaningful metaphor and an undeniably impactful moment on screen – one of the most impactful moments we'd seen from The Next Generation by this point, midway through its second season. As I've mentioned before, the Picard of first- and second-season TNG often feels, to me, like a fairly different person than the Picard of season three and onward, and "Time Squared" strikes me as one of those episodes from the show's first two seasons in which we can see its creative team struggling, somewhat, to find TNG's place in Star Trek relative to The Original Series – an episode which feels like it easily could have been an episode of TOS, substituting Captain Kirk for Picard with few, if any, story changes needed (even if the cold-blooded phasering of his future self would probably feel equally out of character for Kirk). The visual, alone, of two mysteriously identical captains immediately calls to mind the Original Series episode "The Enemy Within," in which a transporter accident splits Kirk into not just two identical bodies, but two opposing facets of his personality – one cautious and indecisive, the other sociopathically aggressive – which we're explicitly told represent elements of leadership that, when properly balanced, make Kirk an effective leader. As in "Time Squared," it's a compelling metaphor, and one that's made even more compelling by William Shatner's famously over-the-top performance as one Kirk, and his carefully subtle performance as the other. But it also telegraphs the same problem I would end up having with "Time Squared," in that the parable-like simplicity of that metaphor forces the episode into some awkward and uncomfortable choices; in the case of "The Enemy Within," it's the troubling, and frankly ludicrous, implication that both facets of Kirk – one a bit too timid, while the other is a violent, dangerous predator – are equally unfit to lead on their own, and equally integral to the complete Kirk's own fitness to lead. (It might be worth noting that "Second Chances," an episode of The Next Generation which came much later in the series than "Time Squared" – and to which I compared "The Enemy Within" in the very first installment of Trek vs. Trek – would pointedly not treat the creation of its own second, identical Commander Riker as a metaphor or an allegory, and would keep its own story extremely grounded in how that situation would affect the relationships of the characters involved.)
All that being said, just as a heavy-handed metaphor is made engaging to watch by Shatner's performance in "The Enemy Within," Patrick Stewart's performance is the glue that keeps "Time Squared" together as a story, and makes it easily recommendable as one of the high points from The Next Generation's generally fun, but famously uneven, first two seasons. While some elements of Captain Picard the character, as written, seem to be a bit in flux in those early seasons, Stewart of course did superlative work with whatever he was given right from the beginning, and Picard's simmering, barely-contained discomfort and frustration throughout "Time Squared" is some of the meatiest material Stewart had been given to work with by this point in the series. However heavy-handed a metaphor it might be for Picard to be confronted by the literal embodiment of mistakes he might make in the future, Stewart expertly does his part to sell both the metaphor and the emotional reality of how this situation might feel to someone like Picard – someone who, as Commander Riker points out, prides himself on his "ability to evaluate the dynamics of a situation, and then take a definitive pre-emptive step, take charge." The presence of Picard's defeated and ineffectual future self, and that future self's inability to tell past Picard what his future holds, creates a sense that the fate of the Enterprise has already been written, and that there is no way, this time, for past Picard to "take charge" by taking a "definitive pre-emptive step." While some aspects of Picard's personality would change or evolve through TNG's early seasons, it would always be true, I think, that he is a deliberate, decisive, self-possessed character, making the premise of "Time Squared" a disconcerting nightmare for him, and Stewart expertly ensures that this feeling is palpable and relatable to the viewer.
In "Timeless," on the other hand, future Harry Kim knows exactly what fate befell Voyager, and knows very well the mistakes he made to bring that fate about. Early in the episode, we see past Kim, excited to get himself and his crewmates home, perhaps behaving a bit out of character himself. Tom Paris raining on Harry's parade by urging caution, and Harry insisting that he can make Voyager's return to Earth a reality despite the simulations that clearly suggest otherwise, is a striking reversal of these characters' usual dynamic, in which we'd typically expect Kim to urge caution on a more impulsive and decisive Paris. But here, these out-of-character moments feel deliberate and purposeful, especially given that we, the audience, already know Voyager's future fate by this point. I can only speak for myself, I suppose, but the experience of deciding to finally be impulsive and take a chance this time, and coming to immediately, profoundly regret it, is one I find almost painfully relatable, even if I've never quite crashed my coworkers into a frozen planet. And where the present Picard of "Time Squared" is rushed into murdering his future self in only a few short (albeit very stressful) hours, the change we see in the future Kim of "Timeless" strikes me as a very believable (and, again, relatable) consequence of his having spent fifteen long years immersed in the kind of regret and survivor's guilt which we presumably would have seen from future Picard if he hadn't been disoriented and robotically focused on simply reliving his future choice.
Granted, while I appreciate the work Garrett Wang has done on Voyager, and generally enjoy his performance as Harry Kim well enough, I don't think it would be particularly controversial to say that he doesn't quite have the tour-de-force acting chops of Patrick Stewart. I do get a kick out of the hard-boiled antihero vibe he delivers here, and Kim's dynamic with Chakotay in the future contributes to the impressive sense of weight and significance that "Timeless" manages in just a single, self-contained episode (which we'll look at more, below). But the depth and complexity of emotion called for by this simultaneously relatable and fantastical situation can't be easy to portray, and Wang understandably struggles with layering that depth and complexity into the sci-fi tough-guy dialogue he's been given. Robert Picardo, on the other hand, has shown an impressive and consistent ability to build believable and engaging character moments for the Emergency Medical Hologram on some truly wild sci-fi premises, and once the EMH is reactivated in the future, Picardo is able to balance Wang's somewhat cliched and wooden angst with a typically engaging performance of the Doctor's own fresh perspective on the tragic future that Kim and Chakotay have been living in for a significant portion of their lives by that point. I will admit, though, that I'm a bit thrown off by how nonchalantly the Doctor carries around the late Seven of Nine's cranial Borg implants – basically a chunk of his dear, departed friend's head – and by how much he seemingly no-sells the news of her death in general, particularly after the episode made a point of showing us a charming moment between Seven and the EMH in the past. But this isn't really the Doctor's or Seven's story, I suppose, and I actually quite like that Chakotay's reaction to finding Janeway's frozen body on the bridge is given just a few understated moments of screen time, which Robert Beltran sells subtly but convincingly; it's always satisfying when an actor can effectively hint at what they're thinking and feeling and let us fill in the blanks, and this pacing heightens the urgency and stakes of a mission which could, after all, change the fates of everyone aboard Voyager. At any rate, perhaps we would have seen more space given to character moments like these if "Timeless" had been spread across two episodes, just as "Year of Hell, Part 2" had time for charming and touching character moments that filled in the gaps of time that had passed off-screen for the characters.
And "Timeless" very much does feel substantial and significant enough to have filled two (or more?) episodes. I realize that "Voyager should have spent X number of episodes on Y" has become something of a cliched, knee-jerk criticism of the show; I myself, and many others, have said the same thing about the above-mentioned "Year of Hell," and about other standout episodes highlighting the unique dangers and challenges implied by Voyager's original premise of a ship and crew stranded so far from home, such as "Night," or "The Void." And perhaps it's a bit unfair to judge a show or episode in comparison to the hypothetical show or episode it could have been (just as it might not be entirely fair to judge The Next Generation's first two seasons against the standards its later seasons would set). At the same time, "Timeless" pretty explicitly sets itself apart from your average episode of Voyager – and perhaps Star Trek in general – as we know it: we're treated, early on, to a slow-motion montage that feels conspicuously different from the relatively straightforward "house style" of direction common to Star Trek shows of this era; we're shown a future Chakotay who has seemingly settled down with a partner, Tessa, and made the most of where he's ended up, as I've often suspected he might have done much earlier in the Delta Quadrant, if not for Janeway's insistence on good old-fashioned Starfleet optimism and exploration; and we see the last surviving Voyager characters of this future pitted against The Next Generation's Geordi La Forge, now a captain, but still very much a representative of the 90s Star Trek norm in general, and of TNG's vision for a calm, orderly utopia more specifically. Much like "Year of Hell" before it, "Timeless" really does seem to be intentionally inviting us to imagine an alternate version of this entire series … or at least inviting us to imagine alternate episodes, and maybe even whole seasons, that might have followed this episode if it hadn't ended by hitting that patented Voyager "reset button."
But then again, that's the potential trap of any good sci-fi world-building, isn't it? All those intriguing little details leave us thinking we want to learn more, to see more, when what we're actually enjoying is being immersed in a moment in one little corner of a larger world (or galaxy, or timeline, or what have you) that's largely left to our imagination. And that immersion is achieved beautifully over the single-episode run-time of "Timeless," in a way that avoids any of the out-of-place filler scenes found in Trek 2-parters like "Past Tense" or "Future's End," while also using its scant details of an alternate future to avoid the cliché of having the fate of the galaxy rest on changing our heroes' past: we're never given the impression that the future is significantly worse off, on a grand scale, for the death of Voyager's crew, but are instead allowed to care about Kim and Chakotay's mission purely because we already care what happens to them, and to their crewmates (a lesson I wish, quite frankly, could be learned by some of Trek's newer dramatic series, which lean far too heavily, far too often, on raising the stakes far too high). The only issue I have with this episode's light touch for future details lies in its treatment of Tessa, future Chakotay's partner, and even that criticism is a relatively mild one: given that we know so little about her, her willingness to go along with Chakotay's plan and sacrifice (the current version of) her life for him can feel a bit like robbing her of any story of her own just to make her an instrument of his story; but at the same time, I also like that her unconditional support for the mission again avoids cliché, by making her a fully willing accomplice rather than wringing cheap drama out of having her try to change Chakotay's mind (and avoiding, in the process, another tired trope for female characters, by not making her concern just another obstacle in the way of a male protagonist's big, important, manly goals). And again, showing that Chakotay has managed to make a meaningful connection with someone new in his post-Voyager life – that he has allowed himself to move forward, in a way that Harry hasn't – helps "Timeless" to frame their mission not as the righting of some cosmic wrong for the sake of the universe, but as a much more personal expression of Kim's inability to live with the knowledge that he made the same sort of mistake as Picard's future self in "Time Squared." And where past Picard erases his future self along with the mistake that future self made, past Kim is left not just with the relief of having avoided tragedy, but with a bitter, angry message from his future self that ends this epic, high-stakes episode on a deeply personal, even selfish note: "You owe me one."